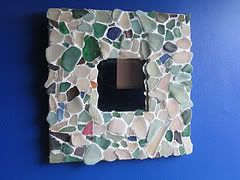 Crafting is the new black, apparantly,
all the kewl kids
are doing it. I have finally got around to making something with some of the
sea glass
I pick up on beaches, I
mosaiced
around a mirror with it. Getting the grout on is far easier than cleaning it off afterwards.
I also want to learn to crochet. I can't quite believe I just said that, but I do, because the cardi I want to knit will need to be edged in crochet if it's going to look how I want. I'm two-thirds of the way up the back of O's tanktop already. Maybe knitting will keep me from eating, who knows?
None of which is getting my course work studied. My bad.