This is how O says his was: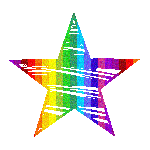 "a shiny rainbow star, all colours of the rainbow"
And what makes a shiny rainbow star of a day? A 2 mile 'walk' in
Grin Low Woods
on a slightly damp day, in which he and his best friend climbed trees, looked for bugs, played with sticks, explored
Gruffalo
caves, ate jam sarnies and moaned about being cold; sleep on the way back in the car; get home and play cars with best friend for another couple of hours; have ice-cream for pudding. Hurrah for shiny rainbow days.