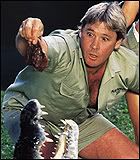 Steve Irwin died
in freak stingray-sting-to-the-heart incident. I loved Steve Irwin, he was mad as a box of frogs but so phenominally enthusiastic about the dangerous animals he got ludicrously close to.
O has made me promise we will never go to Australia. His current wildlife loon hero is Austin "
Snakemaster
" Stevens, a high-camp, hammed-up, Irwin-lite, who runs around the bush annoying deadly snakes and getting all dramatic about how quickly their venom would kill him, because obviously his film crew and production company aren't standing right next to him with a bottle of anti-venom. He does that ludicrous thing you never see anyone else do any more, of pretending he is all alone in the wild. Bah, he don't wrestle crocs and he ain't a patch on Crocodile Hunter Steve (or Crocodile Nutter as I misheard on the radio this morning, but it's quite apt really).