This year's winners of
L'Oreal Unesco awards for women in science announced.
Winners include:
Ameenah Gurib-Fakim, University of Mauritius, Reduit; organic chemistry
Margaret Brimble (left), University of Auckland, New Zealand; organic and medicinal chemistry
Tatiana Birshtein, Russian Academy of Science, St Petersburg; macromolecular compounds
Ligia Gargallo, Pontifical Catholic University of Chile, Santiago; physical chemistry
Mildred Dresselhaus, Massachusetts Institute of Technology, Cambridge, US; electrical engineering and physics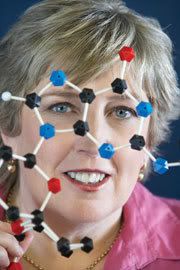 Margaret Brimble's work involves the synthesis of biologically active molecules from natural products including shellfish toxins and algal blooms. She told Chemistry World that her work synthesising these 'beautiful molecules' was enormously satisfying and that she was surprised and delighted to receive the award, adding that she hoped it would stimulate added interest in science amongst young women in her home country.