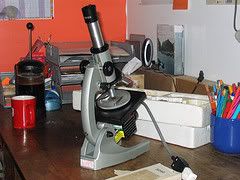 Hurray my boxes of
OU
stuff have arrived. Including a fantabulous microscope and boxes of rocks and fossils.
I'm a bit worried about
juggling
managing two courses at the same time, and making sure I spend enough time on each and don't get behind on either. The microscope, and the
maps
, create some logistical problems - can't take them with me to the library or on the train. Last year I relied alot on being able to go to the library to study (no tv, no internet, no food). I will have to try and arrange things so that I use time at home for the
maps 'n' microscopes course
, and do the
other one
in the library. Oh except that this course has lots of online activities too. Gah. Must get that
43things thing
happening ...