Contrary to the impression given in this blog lately, our house has started getting into the seasonal spirit. We have a tree ...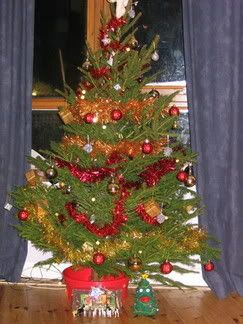 We have the obligatory singing Xmas novelty ie that evul looking very loud rubber tree (thank you so much to the person who sent this to O. If you had kids, we'd send them a drum for their next birthday). We have tatty but much loved decorations made by small child at nursery eg the nativity scene (now with added plastic farm animals) ...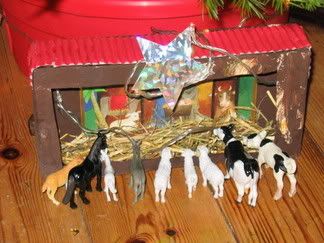 We even decorated the cat ...
OK that last bit's not true. But only because I couldn't get them to stay still long enough. Luckily someone did, tho, and made Xmas cards out of it hurrah. We even had a Christmas party. We invited some of O's school friends round for seasonal fare (pizza and jelly & ice-cream) and a few games of musical statues to the sounds of
Trojan Reggae Christmas
. It made up for him missing out on so much of the big Christmas build up at school (he was even off sick for the class Xmas party awww), I hope.
Car news: it was the
alternator
. It has a lovely new one now, the bill was quite a lot of UKP but not nearly as bad as it could've been hurrah. We might have to eat beans on toast every night but at least it won't be beans on toast for Christmas dinner [1]. So now I can fulfil the offer I made to take some friends to the airport tomorrow.
Question: are my friends the most disorgnasied people in the world ever? When they told me they were going to visit family Abroad, I happily offered mine or R's services to get them to the airport [2]. They said they were flying out sometime on Wednesday evening. OK no problem, I'm out then but R will take them, we'll finalise departure time the day before. Spoke to them today, oh actually the flight's first thing in the morning. Don't get me wrong, I have no problem with getting up to take them - it'd be even more of a pain trying to get there at that time. I'm just flabbergasted that you can be out by 12 hours on the time of your plane journey. Ah well. At least it will get me up and at it early. Also the airport is near a branch of
my mum's favourite shop
. I have no idea what to get her, but something that comes in a John Lewis box is likely to make her happy.
Ah feck, I just noticed on their website that John Lewis doesn't open till 10am! Aaargh.
[1] Christmas Dinner chez Clazza is, in time honoured vegetarian tradition, a nut roast. Specifically Cashew Nut & Mushroom loaf with Mushroom and Sherry sauce. In case you were wondering.

[2] I know what it's like trying to get kids, luggage, gifts, etc etc to the aiport on time esp. by public transport, and I also know they haven't got much money for taxis (their family got together and bought them the plane tickets for Christmas, so they and the kids could all go 'home' awww).