Back from holidays. 10 days on the farm with R's family. Tea and cake and relatives non-stop. Far too much cake consumed, plus v little exercise. Am feeling pretty blebby, can tell by how my clothes feel that I've put loads back on. Haven't dared weigh self yet. Before I went, I said I'd re-start weight-loss attempts when I got back, but haven't done anything about that yet.
At least I will get back to exercising now I am home. I will go to aquarobics tonight (not been for weeks cos it clashed with bike maintenance but that's finished now) and belly dancing tomorrow. And get back on my bike, with O in tow. Our new trailer bike arrived yesterday! We've got an Adams 5 Speed Shifter Trail-a-Bike, just like this one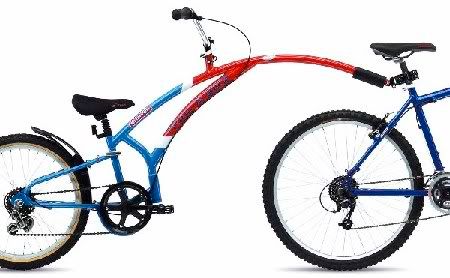 Had a quick spin round the block on it yesterday, todaay we might go as far as the park. O is v excited about it, so am I. Folding mechanism is ace, as we have so little space to store bikes in the hall. And a quick plug for
Wiggle
- ordered trailer bike at lunchtime on Monday, it arrived 8.30 am on Tuesday. Plus, a couple of weeks ago, I enquired if they stocked spare hitches, so we can couple it to either mine or R's bike. They didn't at the time but now they do. So hurrah for
Wiggle
, I shall deffo buy more things from them (and already have a spare hitch on order).