Golden double for Kelly Holmes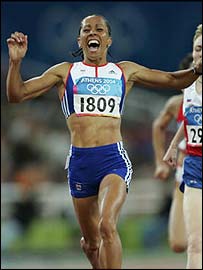 She won the 1500m tonight. It was amazing. Fantastic Kelly!
Other news: we spent the day visiting friends over the
Pennines
. Eating OK-ish, plenty of fruit, not much exercise (short walk with child in tow). Although I wonder how many calories shouting at the telly for 3 minutes 57.90 seconds burns?
More Olympic Stuff: British men sprinters finally learn how to pass the baton to each other and
win the 4x100m relay
. Also big up Ian Wynne for winning kayak bronze medal in spite of
'freak ankle injury'
(I'm not actually sure what's so 'freak' about twisting your ankle getting off the bus, people do it every day).
Chocolate Pringle Update: they have them in America, where they're called
'Swoops'
. There is a whole new category of
"candy shaped like potato chips"
. I'm scared.
PS I know the title is an utterly worn out cliche but what else can you say?