Guess what I saw in the
health food shop
when I popped in for some tofu and sugar-free peanut butter? Dr
"Eccentric Brilliant Bollocks"
now has her own
product range
(buy her book, get a free chewy bar woo). Anyone for horny goat weed?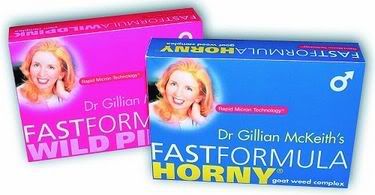 I think I am banned from the health food shop for the involuntary cry of "oh ffs!" that escaped when I saw their beautiful display of Dr Gill products.
A bottle of organic wine got bought somehow. Surely organic wine must be good for you?