Yes he Khan!
"Kindelan ends Khan dream"
but never the less, Amir was amazing for a 17 year old. Amazing.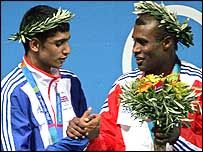 When asked what he was going to do next, Amir said 'Probably take a couple of months off. And I've got some assignments to finish for college'. We :heart: Amir.