I caught some of the Olympic weighlifting tonight, the men's 'super heavy weight' class. Super Heavy Weight = over 105 kg. That's less than I weigh now. OK I'm getting the message.
Iranian lifter
Hossein Rezazadeh
won, setting a new world record in the process.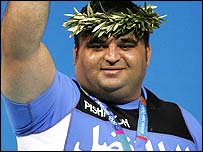 I have a soft spot for Iranians, having worked with lots of them, too, in my old job. Note I say Iranians, not
Iran
.
Also in Olympic news,
more cycling medals
. Bradley Wiggins and Rob Hayles won bronze in the madison. Don't ask me I have no idea of how it works. But that's Bradley's third medal of the Games woo

Tomorrow I have to leave the house and go out and be confronted with
chippies
and sweet shops. However I shall be strong. I have made my lunch (pitta pockets with feta cheese and salad yum, plus plenty of fruit). I will be good. No more super heavy weight class for me oh no.
Daily Review
food ~ good (plenty of salad); fruit ~ 3 pieces (banana, pineapple, grapes); exercise ~ aquarobics; water ~ 1.5 l; booze ~ 2 glasses red wine (so far)