My son starts big school on Wednesday. Today I read
this article
by psychologist Oliver James in the Observer. I am going to cut it out and pin it up on my notice board and never forget what it says.
parents can easily forget that the point of education is to create fulfilled, creative adults, not exam-fodder. If they make love conditional on performance, it is a recipe for depression.
Took me a lot of hard work with my own psychologist to figure out that that's probably where my depression stems from, at least in part - my parents' love being conditional upon me being a good girl, doing well at school, doing as I should, etc. I'm doing my damnedest to make sure my son knows our love for him is unconditional. A while back I bought him this book, it's what we read on days when things haven't gone right and he's been in trouble and I've been shouty ....
No Matter What by Debi Gliori

Small said
"I'm a grim and grumpy little Small
and nobody loves me at all"
"Oh Small" said Large "Grumpy or not,
I'll always love you, no matter what"
OK happier things now: today has been lovely and hot. Took O swimming this morning, spent this afternoon sitting on the balcony reading the papers. This ...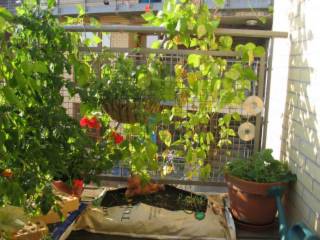 ... is my lovely balcony vegetable patch, from where we got the runner beans we had for tea tonight. There are loads of green tomatoes, so fingers crossed the weather stays hot through September so they ripen. And more fingers crossed for my 1 pumpkin to ripen (and not fall off on to the head of a passer by).